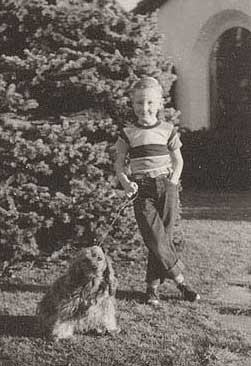 As a boy growing up in Mount Shasta, California, I wanted to be an astronomer. In the eighth grade, I spent three months walking around a barrel, grinding a mirror for my home made telescope. Looking out into those clear, dark nights ignited a sense of wonder that's never left me.
I didn't become an astronomer though. I later read that astronomers spent their lives teaching or sitting on lonely mountain tops. Neither appealed to me then. So, I became a forest ranger instead, spending lots of time on lonely mountain tops and teaching.
But I loved it.
Best of all, I have a great and talented family. Find out more about them by exploring my wife's page, author and illustrator, Anna Grossnickle Hines, who has many wonderful books of her own.
I played trumpet through high school and helped put myself through college playing guitar in a "rock" band. I seriously pursued song writing and performed in a folk group while living in San Francisco in the 1960's and 1970's.
I've produced occasional radio jingles, been an audio visual consultant, and worked as a sound designer for professional live theaters. I eventually took up acting and traveled around the country performing a multi-media portrayal of a turn of the century conservationist, a production I wrote and constructed. I still do that occasionally.
I started writing children's books because Anna suggested it. At that time, I worked for the Forest Service and developed slide presentations for both kids and adults--putting words with pictures, like a picture book but different.
My latest picture book, Midnight Forests, illustrated by Robert Casilla, tells how President Theodore Roosevelt and his Chief Forester, Gifford Pinchot, managed to save (in a sneaky way) large amounts of forested lands for future generations of Americans.
Thanksgiving in the White House, illustrated by Alexandra Wallner, is about Abraham Lincoln's son, Tad, and centered around the Civil War. Tad always got into trouble and once even saved a turkey from ending up as food on the dinner table! Available at your local library.
A companion to that is A Christmas Tree in the White House, about Theodore Roosevelt and his mischevious kids. Available at your local library.
Other books of mine include A Ride In The Crummy, The Day of the High Climber, and Flying Firefighters, all illustrated by Anna and available at your local library.

One of my short stories, The Train Room, lurks in an anthology edited by Jane Yolen called The Haunted House. If you like cooking, I have a recipe in a book of recipes by children's authors called Writers in the Kitchen, compiled by Tricia Gardella.

Ordering My Out of Print Books:

Thanksgiving in the White House, A Christmas Tree in the White House, A Ride In The Crummy, and Day Of The High Climber can also be purchased from me.