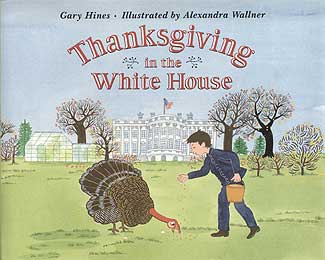 About the story...
After my picture book, A Christmas Tree in the White House, came out, my editor at the time suggested I look at other children of president's to see if some of them might be worthy of a story. Tad Lincoln jumped out immediately. He was such a strong character and full of all sorts of mischief.
The trick was to weave his antics around something that would hold them together, as well as hold the reader's interest. The Civiil War and Abraham Lincoln's official Thanksgiving proclamation provided the glue for that.
I had a lot of fun writing about Tad Lincoln. And I learned a great deal about Abraham and Mary Todd Lincoln, too, both of whom had deep affection for all their children. Tad got into so much trouble that the hardest part was trying not to include everything he did, which was considerable.
Although the Lincoln's endured much tragedy in their lives, this story takes place during a happier time. I hope you enjoy it.
About the illustrations...
The illustrations for A Thanksgiving in the White House were done by Alexandra Wallner, who also illustrated A Christmas Tree in the White House. She's done a great job again and has really brought the story to life with her humorous imagery.

Published by Henry Holt and Company, 2003
ISBN 0-8050-6530-X