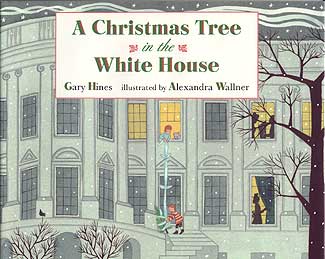 About the story...
Years ago, my wife, Anna, and I happened into a gift shop that carried a few books. Anna picked one up and came across a very short and amusing paragraph about America's first forester, Gifford Pinchot, and President Theodore Roosevelt.
Since I knew quite a bit about Pinchot, I filed the little blurb away in my brain, thinking that someday, with more development and research, what the paragraph touched upon might make a good story.
And here it is. A Christmas Tree in the White House is all about deception, smuggling, intrigue, suspicion, discovery and rollicking good fun. Oh, and all because of Roosevelt and Pinchot's conservation policies.
About the illustrations...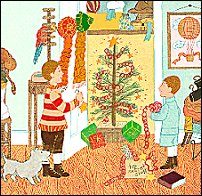 "When I was offered the assignment to illustrate A Christmas Tree in the White House, the first thing I did was visit the Picture File Department at the Free Library of Philadelphia. The librarians there are ever helpful and provided me with files and books about the White House. I researched the kind of toys children of that era played with. I depended on the photograph used in the book to depict the characters. I was concerned that I portray President Roosevelt realistically and not as a caricature and I think I did a good job.
"My job as illustrator is always made easier by a lively fun story, which I think A Christmas Tree in the White House is. It also depicts one of our Presidents as a vulnerable human being with an ability to change and as a caring father. We very much need these messages at this time."

Reviews...
The New York Times Book Review
December 20, 1998
Rough Rider Spare That Tree
On a December evening President Theodore Roosevelt chases his six children through an obstacle course of overturned chairs and scattered pillows in the family quarters of the White House. After the giggling dies down, someone asks when they will get their Christmas Tree. "It's not good to cut down trees for mere decoration...We must save our trees for the future," the President and conservationist explains.
In this mostly true story, Roosevelt's two youngest boys, Archie and Quentin, decide to smuggle in a small evergreen anyway. With the help of an aunt who leaves the little tree outside, they hoist it up to their bedroom, using some knotted sheets, and hide it in their closet. Gary Hines, a former forest ranger and author of the exciting Flying Firefighters, knows how to spin a tale for the very young. A CHRISTMAS TREE IN THE WHITE HOUSE (Holt, $15.95; ages 5 to 9) has just the right amount of suspense as the story unfolds and as the tree is, of course, discovered. When Roosevelt marches the boys over to the home of his chief forester, Gifford Pinchot, the expert provides a plot twist--and a happy ending--with a lesson on nature.
Alexandra Wallner's illustrations seem static at first, with figures carefully arranged as the Victorian furniture, until you notice such sweet details as little red hearts near the mouths of the boys as they blow good-night kisses to their mother. The small story shines up the image of the White House by portraying one of its most popular occupants as the loving father and dedicated leader that he was. In a note, Hines explains that the Christmas tree really was hidden in the closet, and the children were sent to see Pinchot, but he has contracted the events. He also reports that Roosevelt was responsible for protecting millions of acres of forested lands.
MARGARET MOORMAN

Booklist
October 1, 1998
Ages 5 to 7. Loosely based on a true event, this picture book recalls the story of President Theodore Roosevelt's refusal to allow a Christmas tree in the White House because having one would conflict with his conservation program: "It's not good to cut down trees for mere decoration. We must set a good example for the people of America." When Roosevelt discovered that his sons Quentin and Archie had sneaked a small tree into their room, he marched them over to see his chief forester, who informed them all that if done right, cutting some trees is a good idea, as thinning a forest allows smaller trees to grow. After that the Roosevelts had a small tree each year. A black-and-white photograph of the Roosevelts follows the story, accompanied by some information about the family and the events on which the story is based. Wallner's gouache illustrations capture the dress and decor of the times, making this an interesting historical piece as well as a book for any Christmas collection.
HELEN ROSENBERG
Copyright© 1998, American Library Association. All rights reserved

Published by Henry Holt and Company, 1998
ISBN 0-8050-5076-0