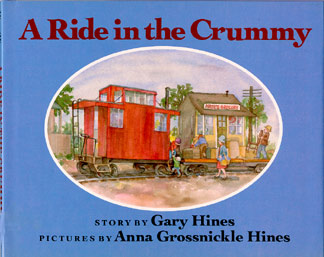 About the story...
The idea for this story came from my experiences as a forest ranger, walking and exploring abandoned railroad grades once used for logging. Some of those grades hung off of steep cliffs and crossed rickety trestles that shoved my heart into my throat. I also had the good luck to interview some retired railroaders who had actually run steam locomotives back in the 1920's over those same grades.
I've always loved trains, especially the days of steam. As a child, I fortunately got in on the tail end of that era. I can still remember walking home from grammar school and waving excitedly at the engineer.
A Ride in the Crummy is a nostalgic look back to a family's experience riding a logging train into the woods to spend the summer.
About the illustrations...
The illustrations for A Ride in the Crummy were done by my wife, Anna Grossnickle Hines, and one is the train and trestle at the top of this page. Although Anna has illustrated countless books, she's never particularly cared to draw mechanical things. But Greenwillow thought she could do it. They were right. Her impressionistic water colors give the story an ideal blend of word and picture. And even though it's now only available at your local library (or you can order a copy from me), it's still one of my favorites. Maybe it's because it was the first story of mine that got published. Or maybe there's just something about it.
Published by Greenwillow Books, 1991
ISBN 0-68809692-1