I Am A Tyrannosaurus
"I have a gigantic head
with long, pointy teeth,
and a great load roar.
I'm a huge ferocious hunter.
I am . . .
a tyrannosaurus."
A little boy pretends to be different dinosaurus--and even a baby dinosaur just hatching from his shell--until his mother joins him with a snack and plays the role of mother dinosaur.
TRICYCLE PRESS
July 2011
ISBN: 978-1-58246-413-8
Trim Size: 8x8 40 pages
$12.99
Available from Random House

Peaceful Pieces: Poems and Quilts About Peace
This evocative collection of poems illustrated by beautiful handmade quilts explores peace in all it's various and sometimes surprising forms: from peace at home to peace on a worldwide scale to peace within oneself. Pondering the meaning of peace and its fleeting nature, this book compels each of us to discover and act upon peace ourselve
Henry Holt
March 29,2011
ISBN: 978-0-8-50-8996-7
Hardcover 32 pages 9 1/2 x 11
$16.99
Read the Story Behind the Book
Reviews


STARS from PW and ALA Booklist!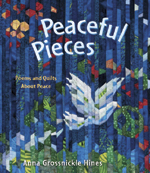 Take cloth and buttons and thread. Add a classic nursery rhyme and a counting game. Stitch them together and what do you have? A patchwork of numbers and fun!
With bold and beautiful quilted illustrations, author-illustrator Anna Grossnickle Hines has created a read-aloud that's sure to become a cozy household favorite.
HARCOURT TRADE PUBLISHERS
May 2008
ISBN: 9780152063054
Trim Size: 10 x 11 32 pages
$16.00

Read the Story Behind the Book
See the step by step process of creating this book.
Reviews


STARS from Kirkus and Booklist!

Pieces: A Year in Poems and Quilts
Winner of the 2001 Lee Bennett Hopkins Award for Children's Poetry!

Nineteen handmade quilts grace the pages of this collection of seasonal poems. Taking inspiration from the magic that is winter, spring, summer, and fall, and stitching together varied forms of poetry (including haiku) with something entirely her own, Anna Grossnickle Hines presents her vision of nature's year-round drama. The author learned to quilt from her mother, and her talent and enthusiasm for the traditional craft are evident on every glorious page. A fascinating note on the making of the quilts is included.
Greenwillow Books, March 2001
Paperback 0-06-055960-8 $6.99
Lee Bennett Hopkins Award for Children's Poetry 2002
Junior Library Guild Selection
National Parenting Publications Awards (NAPPA): Poetry and Folklore 2001
Society of Illustrator's Original Art Show, October 2001
NCTE Notable Children's Books 2002
Kentucky Bluegrass Award Nominee for 2002-2003
Texas Bluebonnet Awrds master List 2002-2003
Oregon's Beverly Cleary children's Choice Award Nominee for 2004
Miniature Quilts, pattern for "To Each His Own", Issue 52, 2001
American Quilter, "Quilts in a Children's Book, The Making of PIECES: A YEAR IN POEMS AND QUILTS" Winter 2002
Reviews



STARS from Kirkus, Booklist, and Publisher's Weekly!
Things To Do: Including quilt patterns for fabric and paper.
Quilts in the Classroom
Quilts, Dolls, and Books: How they tie together in the author/illustrator's life.
Quilter's Page